Working as both a delivery driver, and a food preparer I learned the importance of customer service and time management in busy environments.

The deliver aspect was highly influential in teaching me professionalism and conflict management. I learned to delicately appease customers while maintiaining my professional integrity and appropriateness. This was a very hepful job to have while I was attending high school.
Powered by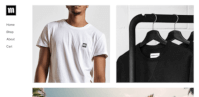 Create your own unique website with customizable templates.